Cargobikes for sale
If you have a cargobike that needs a new home. drop me details of your bike with some pictures and i'll post them here, no commission, no fee, just a place for like minded people to share the love and find thier next ride.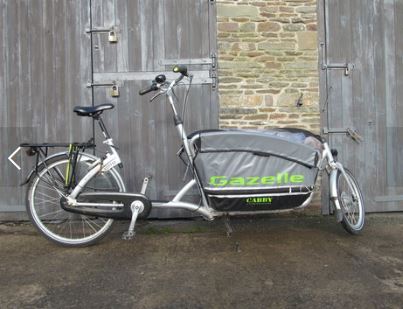 Gazelle Cabby
Current owner has move on to a different steed. This cabby is a good little runner, with a good spec,
the bike is fitted with fairly new rain tent, two heavy chains for the security frame lock and a box cover. fitted with marathon plus tyres with plenty of wear left and also the box cover. so a well speced bike. .
there is some superficial marks/damage to the box but these do not affect the function. brake levers also have some scrapes and the grips are sticky. We have spares all of these minor points.
available to test ride in store. BS37 8QF. can ship at extra cost.
bike has been tweaked by use before sale and can be fully serviced and new parts fitted (if ness) for additional (and very reasonable) cost.
Bike price £790 ono
(selling n behalf of a customer)
RodfordBuilt MK1 10 speed (SOLD)
Great little big boxbike, not really big enough for carryng kids but a very useful and sporty all arounder..
10 speed zee derailer gears…cable disc brakes Schwalbe Big Ben tyres.
Not ridden very much at all…
230cm long, the handlebars are the widest part at 70cm..there are two wooden boxes to choose from..and a couple of plastic crate options….new purpose built plywood boxes are possible at extra cost.
Offers around £650
Bargain Gazelle heavy duty…..54cm 'mens'
I have this Gazelle Heavy Duty in a mens 54cm frame, ridden about twice. 'showroom' model...if you want it, its yours for £499 if you act quickly. Shipping can be arranged at extra cost. Great bike.......Bike must go to make space...Act Quickly